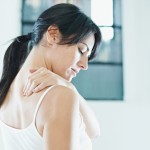 When the rotator cuff is torn, mobility will be severely limited due to the intense pain. Four muscles work together in the rotator cuff to allow the shoulder full range of motion. When any of these muscles or connective ligaments is damaged, significant pain can result. Whether the injury is caused by an accident, simple aging or the constant overuse of the limb; the pain can be severe.
Spasms can plague the shoulder when the range of movement is exceeded. 
Fluid can build up within the joint from the inflammation while the inability to move the joint smoothly can prevent you from engaging in your regular activities. Pain killers like Tylenol and Motrin will temporarily reduce the inflammation and bring relief from the constant pain, but that relief is short-lived. For the ultimate relief the best option for rotator cuff injuries is to try chiropractor care.
Dr. Baker offers chiropractic care for the back and the extremities. In addition to treating bulging discs and lower back pain, he is able to treat rotator cuff injuries. He begins by determining how severe your condition is through the use of x-rays and a physical exam of the rotator cuff.  A treatment plan will be created, laying out what type of treatments will be done and what the potential time frame is. In addition to spinal manipulations, he may also advise the use of cryotherapy to reduce the inflammation. Manual therapy is effectively used to reduce the spasms while Boifreeze may be suggested for topical pain relief.
PrimeSpine is located in both Kirkland near Juanita. Dr. Baker accepts most major insurance plans including Premera, Regence, Cigna and Aetna. Whether you are an athlete and you're noticing that the shoulder pain won't go away, or if you believe the pain is the result of age-related arthritis, Dr. Baker may be able help you. Call today for a consultation to learn what chiropractic care can for your rotator cuff injury.
Kirkland Chiropractor helps patients with rotator cuff injuries
Your local Kirkland chiropractor for rotator cuff treatment

Don't hesitate to call Kirkland Chiropractor, Dr. Baker today for your free exam for your rotator cuff injuries!