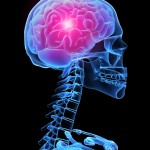 Have you ever experienced a migraine? If this is the case, then chiropractic care can help relieve both the stabbing pain in your back and the throbbing in your head.
Migraines can have different causes. For some people the trigger is bleached flour or some other food. Other people find that the migraines roll in along with low pressure fronts. But poor spinal alignment or a herniated disc in the upper back can also cause migraines for some people. If you are suffering from recurrent migraines and have been unable to find a trigger, consider visiting Dr. Baker in Kirkland to see if he can help you with your migraines and upper back pain.
Several clinical trials have been conducted to learn the effectiveness of chiropractic adjustments for the treatment of migraines. The studies found that more than 70% of people who tried chiropractic care for the treatment of migraines did enjoy some relief. 22% of people reported suffering with 90% fewer migraines while another 49% reported that the occurrence of migraines was cut in half.
Several studies have found that spinal adjustments are able to reduce the frequency of both migraine headaches and tension headaches. The use of chiropractic care has been found to be just as effective at treating these severe headaches as the use of medications. Medications continue to serve a purpose in the treatment of migraines, but with chiropractic care the occurrence of them can be drastically reduced.
PrimeSpine chiropractic and massage clinics are located in Kirkland and Bellevue. They accept most major health insurance carriers including Premera Blue Cross, Cigna, United Health Care, Medicate, First Choice Health Care and Regence. Walk-ins are welcome, so make an appointment today to enjoy natural relief from your headaches.