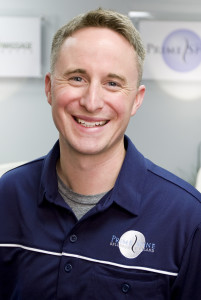 Dr. Ben Baker
With seven years in the field, Dr. Baker has developed two thriving practices on the Eastside. His treatment style emphasizes a well-rounded approach to help patients succeed with their goals. He is well versed in manual chiropractic treatments as well as instrument assisted and drop table techniques. He is also armed with various soft tissue and manual therapy techniques & extremity adjustments to treat the whole condition. As an avid marathon runner, he understands how important home exercise and stretching plans are. His approach to patient management is clear, the focus is to help navigate his patients through their acute phases of recovery and arm them with the tools to help strengthen their spines outside of the clinic. You can expect a fusion of adjustments, manual therapies and guided home exercise plans to help patients.
In his clinics, they don't push supplements or products, they don't have high pressure sales or year-long prepaid treatment plans. What you can expect is a specific, hands on approach to each individual. Dr. Ben was born in Seattle, WA.
He enjoys a very active lifestyle filled with running and golf. He is a strong advocate for staying active. Dr. Baker is an accomplished marathon runner who has participated in the Seattle Marathon as well as numerous others including the Boston Marathon. Dr. Baker and his wife Melissa (Newport High School chemistry teacher and Newport gymnastics team coach) live in Kirkland.
They are both avid runners and hikers. Anyone interested in getting educated as to how to feel and function better should visit Dr. Ben. He is known for being a positive force through health education and chiropractic technique. He specializes in treating patients who have been involved in car accidents and whiplash, athletes, patients with headaches and people suffering from low back pain.
Dr. Joe Kelley
My name is Dr. Joe Kelley and most of our patients just call me Dr. K.  I was born in the Seattle area and have lived here most of my life.  Besides my California adventure for graduate school I have stayed true to my Northwest roots!  My education background reaches from Interlake High School, to Western Washington University, to California State University at Hayward, to Palmer Chiropractic College West…what a journey it was.
I truly believe my learning will never stop—whether it be through my continuing education seminars, growing and healing with my patients, or just watching my daughters learn and grow.  As one of my rock heroes once said… "I thought I taught the world, turns out the world taught me."  That being said, it has been and will always be my purpose "to educate, check and adjust as many families as possible toward optimal health through natural chiropractic care."
I feel blessed to have the opportunity to help people improve their lives, extend their lives and to participate in their family's overall wellness.  Health is our most priceless asset and it will always be my mission to help our community (and ultimately the world) naturally restore and maintain their health at an optimal level. As a former stock car driver, I was brought into my first chiropractor's office following a very serious racing accident in 1992. My healing experience change my life and I immediately decided to shift my career path from engineering to the field of chiropractic health. I have devoted my life to helping others regain their lives!
I currently live in Woodinville with my lovely wife Yohko (my rock), my two daughters, Amber and Lexi (my inspirations), and our dog Jake. Family is the most important thing in the world and I feel lucky to have mine! I hope when our paths cross some day we are both able to teach each other something.
Alexandria Staley
Alex is the Office Manager for PrimeSpine Kirkland and has been with the clinic since 2013. As your office manager she is here to help answer all your questions and concerns, schedule your appointments, and help make your visit as wonderful as possible.
It was her experience in competitive Fastpitch that drew Alex into both Chiropractic and Massage Therapy, and it is what allows her to continue playing softball in local leagues. She looks forward to meeting each patient and supporting them on their path to wellness.
Kim Koontz
Oleksandr Stetsyuk