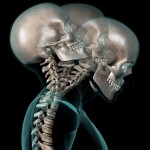 click the image above for your FREE chiropractic exam
Chiropractic care after a car accident
is a smart decision for those who are seeking natural health care following an injury. Most car accidents have a degree of whiplash involved which can be extremely damaging to the neck and upper back. Getting chiropractic care immediately following a car accident, especially one involving whiplash, is the wise thing to do to avoid long term postural distortions that can have a negative impact on one's posture for the rest of their lives.
I speak from my own experience, I have been delivering chiropractic care in Kirkland, WA to many car accident victims. A couple years ago I had the misfortune of being involved in a whiplash car accident and received chiropractic care immediately following the car accident. This was the wisest decision for me because I took care of the forward head posture and neck and back pain quickly. Many people don't know if they require chiropractic care following a car accident. If this is the case, don't wait, get checked. Car accidents are very damaging on one's neck and back and often times if not treated properly and early can be something car accident victims have to deal with for the rest of their lives.
Let me pose a question, why would someone who suffers from whiplash from a car accident want to medicate the pain away without correctly the underlying problem? This is a question I ask myself all the time as a Kirkland chiropractor in Washington state. I actually just saw a prescription from an M.D. that recommended my patient start taking a very high doses of pain medication and also take a separate medication for her stomach because the first medication prescribed would can stomach pain. This is ludicrous. Getting proper, safe, natural and most importantly corrective treatments following a car accident is your best option. Chiropractic care is safe and effective for car accident injury rehab.
car accident chiropractic care in Kirkland, WA
Dr. Baker specializes in car accident chiropractic care!