Car Accident?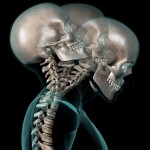 click the above image to redeem your free chiropractic exam
Have you been involved in a car accident recently?  It seems like everyone I know who lives in Kirkland or Bellevue has been involved in some sort of car accident along 405 in the last few years.  Did you know that chiropractic treatment is one of the most effective forms of rehabilitation immediately following  a car accident?  Whiplash can cause severe damage to one's posture if it is not correctly rehabed in a timely manner following a car accident.
I've been providing chiropractic treatment in Kirkland for those who have experienced whiplash following a car accident and am passionate about helping as many as I can get back on track to better health immediately following their car accident.  There is a simple process that one must go through regarding their car insurance in order to get chiropractic care covered through personal injury protection.  This is a very easy process that my team at PrimeSpine are experts on.  We have been providing Kirkland chiropractic care following car accidents to the masses as of late.
If you or a loved on has been involved in auto accident, please give Katie a call today at 425-825-8750.
You don't have to live in pain because of a car accident
Car Accident in Kirkland
Chiropractic treatment for your car accident is our specialty
Call today for a free exam 425-825-8750