Whiplash
Car accidents are extremely common, whiplash is commonly the result.  Who doesn't know someone in their family or themselves who hasn't been involved in a car accident involving rear-end collisions and whiplash?  As a kirkland chiropractor I treat many people who are going through personal injury rehabilitation from a car accident.
The link below has a descriptive story about what I went through as a teen and how to protect yourself from the insurance nightmare involved with auto accidents.  I have advice listed in the link below explaining how you can protect your health and your finances if you are involved in an auto accident that involves whiplash.  Take it from a chiropractor in kirkland who is a personal injury expert, this is a must read article.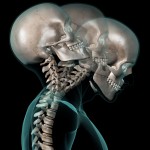 click the above image to redeem your free chiropractic exam
http://ezinearticles.com/?My-Aching-Neck—A-Brief-Story-About-Whiplash&id=5049087
Let me summarize by reinforcing the damage a car accident can cause to peoples' posture.   I personally was involved in an auto accient that involved a neck injury a few years ago and had plenty of pain 48 hours following my car accident.  Car accident injuries are one of the most incorrectly handled injuries in America.  The problem is many people who are involved in an auto accident do not know their rights or understand the system. Whiplash is a very serious condition and should be taken very seriously.  If you have been involved in a car accident and sustained any whiplash at all, please get checked by your kirkland chiropractor today.
Whiplash is common along the 405 corridor, whether you live in Bellevue or Bothell
Dr. Baker is the whiplash specialist of the eastside, call him today to learn how to get back on track